America's largest automaker, GM, is manufacturing its most affordable, consumer friendly electric vehicle since the GM EV1. Better equipped than the Nissan Leaf and cheaper than the BMW i3, the 2017 Chevy Bolt packs a 60 kilowatt hour lithium ion battery that has an EPA estimated range of 238 miles on a charge. While Car and Driver observed a 190 mile highway range, that should still be more than enough for anybody's expected and unexpected daily driving needs. This tiny four door hatchback has the type of mass appeal that GM hopes will make it a major player in the electric automotive market. The Bolt will have to compete with the highly anticipated Tesla Model 3, Elon Musk's "Model T" of sorts, an affordable Tesla for Joe Sixpack, and Jill Sixpack.

The Bolt starts at $37,495, but a $7500 federal tax credit will put the price under $30,000. Further, climate minded municipalities might have extra incentives to push that price down as well. If you want all the trimmings, you can get the Bolt Premier with a starting price of $41,780. It adds leather, heated front and rear seats, roof rails, a 360-degree-view camera system, a rearview camera mirror, rear parking sensors, and blind-spot monitoring. Options included an upgraded Bose stereo, wireless phone charging, and two USB ports in the rear for $485, and a Driver Assistance package with forward-collision alert with pedestrian detection, lane-keeping assist, and automatic high-beams for $495.
The Bolt has a lot of pop on the road. The instant electric torque accelerates the Bolt from zero to 60 mph in 6.5 sec. The top speed is limited to 93 mph.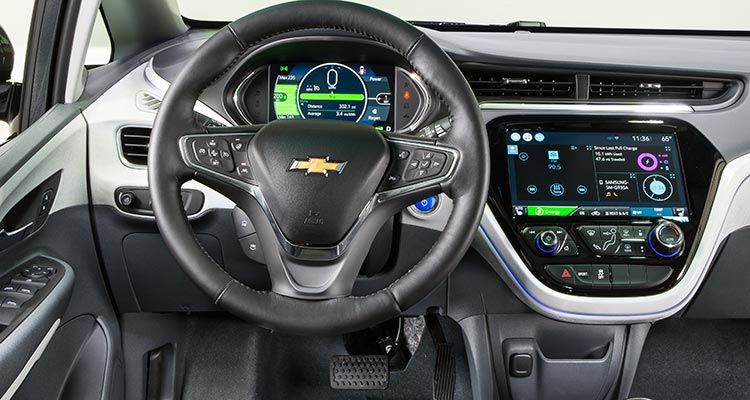 Other than that the Chevy Bolt is very similar to your average compact hatchback. Test drivers have mentioned it is quite cramped inside, with a lot of plastic trim. But you do get a state of the art infotainment system and heads up display, which adds to the futuristic experience. Overall, if you are really inclined to get of petroleum for your transportation needs, the Bolt is a great option that is now in the feasibility price range for many of us.